Soteria
In July 2012, Pathways Vermont was awarded a grant by the Department of Mental Health to develop a five bed residence for individuals "seeking to avoid or reduce use of medications during an initial episode of psychosis," The creation of this program was mandated by Act 79, the legislature's plan to redevelop the system of care following the closure of the Vermont State Hospital.
The residence was developed based on Dr. Loren Mosher's Soteria model. This model is a non-medical hospitalization diversion that supports individuals through an early episode of psychosis focusing on interpersonal relationships and "being with" the individual in need.
Soteria is a Therapeutic Community Residence licensed by the Vermont State Department of Aging and Independent Living. It opened its doors in April 2015.
Specialized Intervention
According to epidemiological research about the national incidence of first episode psychosis, approximately 200 Vermonters have such experiences each year.
Soteria creates a specialized resource for early episode psychosis within the state system of care. There is significant evidence that suggests that intensive, early intervention programming can drastically improve the long-term outcomes of individuals experiencing psychosis.
Creating Alternatives in the System of Care
The predominant treatment available for initial experiences of psychosis entails the prescription of antipsychotic (aka neuroleptic) medications and inpatient hospitalization. However, a significant portion of individuals going through the experience are not interested in this form of treatment and alternative forms of care are not readily accessible, especially to those with limited resources.
Soteria offers an alternative approach to the experience of psychosis by providing person-centered adaptive care. Soteria has on-site psychiatry, but treats psychiatric medication as a personal choice and offers alternative modalities, including dream-work, breathwork, herbalism, and meditation.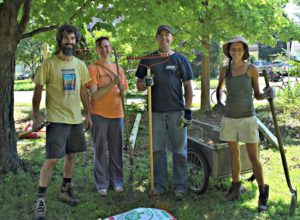 Expense Comparison
Psychosis is considered to be one of the most expensive mental health conditions. Frequent and long-term hospitalizations combined with high rates of disability among individuals diagnosed with a psychotic disorder carries a high price tag.
Soteria is remarkably cost effective compared to inpatient hospitalization, largely due to its less restrictive nature. The comparative nightly costs per individual range from:
$1,862 at the Vermont Psychiatric Care Hospital (post-Irene)
$547 at Soteria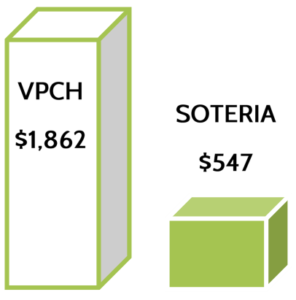 Additionally, by providing early intervention services, there is a great likelihood that Soteria will improve the long-term functional outcomes of residents. There is a documented trend that the number of people enrolled in Social Security Disability for a psychiatric disability has exploded in recent years, growing from 1.25 million Americans in 1987 to 3.97 million Americans in 2007. Soteria hopes to combat this trend and support individuals to go on to lead meaningful lives in the community. By focusing on abating distress, building resilience and identifying future goals, individuals are able to obtain functional recovery.
APPLY For Services
Please click here to access our secure inquiry form for the Soteria residential program. Applications are received and reviewed on a rolling basis. All of your responses are secure and confidential. Once your application has been received, a member of the Soteria team will contact you within 1 business day. Please note that main line staff do not have information about the status of applications.