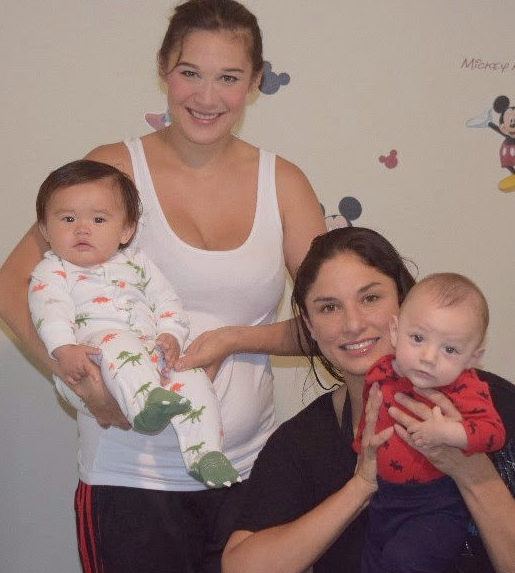 We met Sabrena, Michelle and their two baby boys, Duncan and Andrew back in July. Through our veterans housing program we were able to find them a lovely apartment in Winooski to call home. They now have big plans for themselves and their family. Here is Sabrena and Michelle's story in their own words:
Sabrena: "I was a veteran for 12 years and we moved from California while both Michelle and I were pregnant because our doula midwife was here – Michelle's sister. We were living with her in a two bedroom apartment with seven people for about five months.
(Once in Vermont) I started my PTSD therapy at the VA and immediately, within about a month, Pathways got in contact with me and we had an appointment within a week. John met us right near the house, we met up with him and he told us by August 1 he would get us moved in. Michelle and I were holding on for all hope we could and low and behold, by August 5 we moved into this apartment here in Winooski.
Pathways has such a wonderful group of people who work with Annie our landlord. Annie met with us and she was wonderful … she knows what great work Pathways does, how much they help people and she was all for it. It's been wonderful, there haven't been any issues – it's been so great. As soon as we moved in we had a new bed, two cribs, a voucher for housewares. Dave, our case manager, is so wonderful – he checks in, stops in and came by when I had a meeting with my VA manager. He's just been so on point.
Joanna picked us up to go look at places because we've been traveling on the bus with two infants, so she would pick us up and drive us around. We love Winooski… the baby's doctor's office is 5 minutes away. I feel like it can't get any better – every day feels like Christmas lately; I just can't believe how fast Pathways got everything together. It was lightening fast.
I couldn't have asked for better hours because Michelle will be going to school in the morning and I'll be working at night so I can watch the boys while she is at school and she can watch the boys while I'm at work … it's going to be pretty busy until winter."
Michelle: "I start school at UVM on the 29th and then I get certified as an EMT in December … probably going to school for the next year. It's only a 5-minute bus ride from here to the top of the hill. The state of Vermont helped pay for my CPR class and my text books and my parent's helped me pay for my class at UVM … Sabrena works at the VFW, she started about a week ago.
It's really great because Pathways is helping us a lot getting on our feet and it's allowing us to adapt and get familiar with our new house. The babies are adjusting and it's giving us time to start the new job, get a routine and for me to start school and everything. So by the time I'm halfway through school we'll be able to take care of this place no problem. Not having a stable place to get on our feet in California was holding us back – we never got that chance. Here we finally got that chance and we're able to turn it around and it's just working out so great."
-Sabrena and Michelle