Peer Assisted Vocational Exploration
At Pathways Vermont, we value your preferences and dreams. We want to provide you with 100% free and high-quality employment support. We explore your individual likes, needs, and barriers towards employment, to help guide you towards a career that best suits you!
Everything from job searching, resume aid, interview preparation, and ongoing follow-up through collaboration and a peer-to-peer approach.
We work with all individuals 18 and older.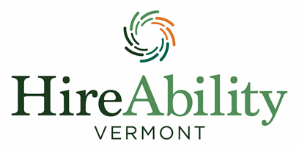 HireAbility Vermont Grant
Individuals between the ages of 18 and 30 who identify with any disability (mental, physical, intellectual, etc) are eligible to access our partnership with HireAbility Vermont (formerly VocRehab)! HireAbility Vermont can assist with work related expenses to move towards employment goals from training to attire, assistive technology, and transportation costs.
Other services
One on one peer support
Resource and training referrals
Business networking (utilizing our employer connections will match you to a great fit)
Limited job coaching
APPLY FOR SERVICES
If you are interested or are not sure if you qualify, please reach out to Chris Nial or call (802) 777-4633 to ask questions and get started.