pathways Vermont Support Line
Are you struggling with a challenging situation? Do you have feelings of sadness, loneliness, isolation, anger, or depression? You don't have to face it alone. Talk with a caring person who understands what you're going through by calling or texting our confidential Support Line.
The Pathways Vermont Support Line provides confidential, non-judgmental support and connection for all Vermonters over the age of 18 by phone. It's staffed by local peers who've been through tough situations themselves. They listen, talk with you, provide insight, and help you face life's challenges.
Different from a crisis helpline or emergency hotline, the Vermont Support Line is a "warm line" — your go-to support resource that can help prevent a situation from escalating to an emergency. We focus on mental health help and counseling for a wide range of issues: from the anger you feel after a bad day, to times when you feel alone, to when you need support for substance abuse, medical concerns, relationship challenges, or thoughts of suicide.
Call or Text Us!
Our line is open 24/7. Give us a call or text us at (833) VT-TALKS / (833) 888-2557!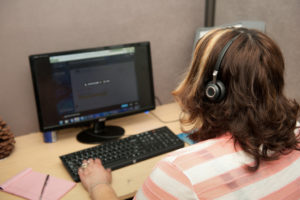 Filling an Unmet Need
The Pathways Vermont Support Line fills a previously unmet need in the system of care: immediate access to nonjudgmental, compassionate support. The creation of a statewide warm line was mandated in Act 79, the legislature's plan to redevelop the system of care following the closure of the Vermont State Hospital. In March 2013, the Pathways Vermont Support began taking calls and providing connection to Vermonters in need, initially intended as an alternative resource for individuals who regularly contact crisis and other emergency-level services in search of support.
Prior to the launch of the support line, access to this form of support was limited to areas where local warmlines were operating. This is the first time this service has been accessible to all Vermonters.
Approximately one-half of callers to the line identify that there is no other service they would call to meet their need.
Almost 50% of callers choose not to leave a message for callback, suggesting there is still a larger need to be met.
A Cost Effective Solution for Vermont
By providing a low-barrier, non-emergency level of service, the Pathways Vermont Support Line helps relieve the burden on statewide crisis services such as 911 and emergency departments.
Since its inception in 2013, the Pathways Vermont Support Line has diverted over 1,110 calls from emergency services, an average of 227 calls each year. The Support Line is an important service which has the potential to prevent unnecessary visits to the emergency department and subsequent psychiatric hospitalizations, as well as ancillary services such as screeners and emergency transportation. This not only reduces the burden on these resources, but has the potential to save state dollars, given that the majority of callers to the line have state-funded insurance.
Caller Feedback
"The support line is one place where I don't feel alone in the world. It's so good to be able to pick up the phone and hear an empathetic voice on the other end I call each day because I find this line very effective."
"I am really glad the VT support line exists. It is 1000 times better, you listen, and it really helps. I have gotten more help in the past two weeks than what the crisis line has done over the past two years. Thank you."
"I really wanted to end it. I was happy to feel a connection with another human that had been through so many of the same things…thank you for saving my life."